Fantastic Schools, Volume One is LIVE!
We are so delighted to announce: Fantastic Schools, Volume One is LIVE!  This is the Kindle ebook. Other formats and platforms will come soon.
This book includes a canon story set in the Books of Unexpected Enlightenment world and a new Schooled In Magic story by our own Christopher G. Nuttall, giving a fascinating glimpse into the Schooled In Magic world.
A full list of authors below.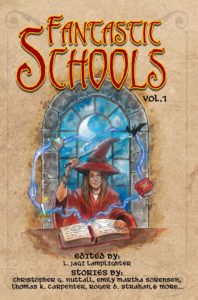 Have you ever wanted to go to magic school? To cast spells and brew potions and fly on broomsticks and—perhaps—battle threats both common and supernatural? Come with us into worlds of magic, where students become magicians and teachers do everything in their power to ensure the kids survive long enough to graduate. Welcome to … Fantastic Schools.
Follow a girl trying desperately to find her place in a school of dark magic, a band of witches desperate to prove they can be as good as the wizards, a school of magical monsters standing between the evil one and ultimate power, a businesswoman discovering the secrets of darkest evil … and what happens when a magical education goes badly wrong.
Follow us into worlds different, magical …
… And very human.
Get Fantastic Schools, Volume One today!
This volume include:
"Little Witches" by Mel Lee Newmin
"The Path of the Phoenix" by Emily Martha Sorensen
"A Firm Hand" by Aaron Van Treeck
"Asymptote at Three O'Clock" by Steven G. Johnson
"Practical Exercise" by George Phillies
"The Ascendant Cup" by Thomas K. Carpenter
"Doom Garden" by Benjamin Wheeler
"Crucible" by Frank B. Luke
"The Last Academy" by G. Scott Huggins
"Finals" by Bernadette Durbin
"Metamorphosis" by Roger D. Strahan
"How to Get into Magic School" by Erin N.H. Furby
"Deep School Tuition" by Denton Salle
"Gennady's Tale" by Christopher G. Nuttall