Review: Trial by Fire by Christopher G. Nuttall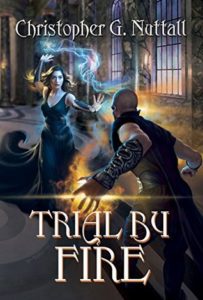 Trial By Fire is the seventh book in Christopher G. Nuttall's Schooled In Magic series. The story opens with Emily and the Grandmaster of Whitehall Academy—by far one of my favorite characters in the book—moving through the Blighted Lands to examine what the Necromancer Shadye left behind when he was slain by Emily. Rules of inheritance says that these things now belong to her.
Returning to Whitehall Academy, for her fourth year, Emily finally has a chance to room with her two best friends, Princess Alassa and Imaiquh. This is a bit bittersweet, because it is Alassa and Imaiqua's last year. They are finishing their basic studies and going off to take up their future pursuits. So it is all the more annoying when the school years turns out to be much more complicated than expected.
Having finished the normal two years of Martial Magic, Emily is delighted when she and Head Girl Aloha are offered private instruction in this field. Her delight turns to shock and despair when she discovers that the tutor picked to instruct them is none other than Master Gray, a man who already thinks of Emily as only a little more worthy of living than the average bug.
On top of this and her regular studies, a joint project is required for Fourth Years. Emily's chosen partner is her new friend Caleb. He has an excellent idea for a project that dovetails quite well with Emily's own research, but might he be interested in more than studying magic?
On top of that, many students have started acting very oddly, including her friends. Biting one's nails isn't so bad, but biting them until they bleed? And, sure, Alassa is lovely, but staring at the mirror and not even moving to eat?
Emily speeds to find the answer to what is happening to her friends before it is too late, as the world wonders: Will she save the day in time? Or will it all be blamed on her again?
I enjoyed this book very much. It is definitely one of my favorites in the series. A number of sad things happen in it, including the loss of a character I was very sorry to see go, but the hints related to the greater matters in the school and the Nameless Lands are intriguing.
A lot is asked of Emily in this book, and she proves to be up to a tremendous challenge. I was impressed!
My one regret is that I would like to see her make more use of her familiar and her battery pockets. Otherwise, splendid entry in the Schooled In Magic series!
Void Watch
Ahhhh!
Not only does Void appear in this book, but he is actually—and I know you will have trouble comprehending this, fellow Voidophiles—onstage for more than a quarter of a minute. What's more, he actually spends time with Emily when she desperately needs his help. He acts like the father that others mistakenly believe him to be.
All joking aside, I was really touched by the care he took of her in this book and the beginning of the next book.
And for those who are considering whether Void might ultimately be a villain, while this does not prove that he has no evil intent toward anything, I think we now know for sure that he has no evil intent toward Emily. If he had wanted her offed, this would have been the time to do it.
A truly satisfying Void-sighting!