Schooled In Magic #23–The Face of the Enemy
The penultimate book in Emily's original adventures in the Nameless land!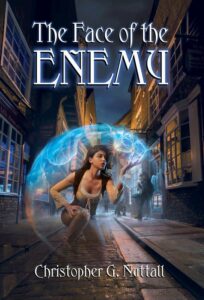 The Necromantic Wars are over, but there is no peace. In the aftermath of the struggle, long-held grudges are boiling over and conflicts are breaking out. The monarchs want to settle border disputes, the aristocrats want to impose their will on monarchs and peasants alike, the commoners want freedom and justice and the magical communities want to rule all or else separate themselves from the mundanes. And most of this chaos is being orchestrated by Emily's mentor, the sorcerer Void. He believes the only path to salvation for the Allied Lands is to make himself the undisputed ruler of the world.
After discovering the truth – too late – Emily is on the run, blamed for the disorder by friend and foe alike. With a handful of allies by her side, Emily must find a safe place to gather herself and strike back before it is too late to save what remains of the Allied Lands. And yet, as she flees through lands plagued by civil wars and rebellious nobility, hunted by powerful sorcerers, aristocrats and rebels who want to kill her or use her for their own purposes, she is forced to accept it may not be possible to save everything and to realize, as much as she might wish to deny it, that her mentor might be right.
And yet, she also knows the path to hell is paved with good intentions.
Buy The Face of the Enemy today!
Or read an excerpt here!