A Better Way to Buy Books!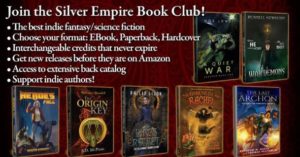 The Silver Empire Book Club has gotten off to a great start! Look below to see how it works!
How does the Silver Empire Book Club work?
What if I want a different format this month?
Your credits are completely interchangeable! Most books cost 1 credit for an ebook, 4 credits for a paperback, and 9 credits for a hardcover. Signed up for the hardcover plan, but you want to buy two paperbacks instead this month? No problem! On the ebook plan but you want a paperback instead? Just save 4 credits for it!