Which Magic School Is For You: Mahoutokoro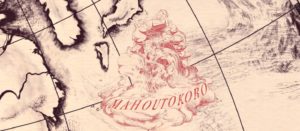 This ancient Japanese school has the smallest student body of the eleven great wizarding schools and takes students from the age of seven (although they do not board until they are eleven). While day students, wizarding children are flown back and forth to their homes every day on the backs of a flock of giant storm petrels. The ornate and exquisite palace of Mahoutokoro is made of mutton-fat jade, and stands on the topmost point of the 'uninhabited' (or so Muggles think) volcanic island of Minami Iwo Jima.
Students are presented with enchanted robes when they arrive, which grow in size as they do, and which gradually change colour as the learning of their wearer increases, beginning a faint pink colour and becoming (if top grades are achieved in every magical subject) gold. If the robes turn white, this is an indication that the student has betrayed the Japanese wizard's code and adopted illegal practices (which in Europe we call 'Dark' magic) or broken the International Statute of Secrecy. To 'turn white' is a terrible disgrace, which results in instant expulsion from the school and trial at the Japanese Ministry for Magic.