Review: A Great and Terrible Beauty
In an earlier post, author Katie Cross mentioned the book A Great and Terrible Beauty by Libba Bray. This story has both a girls' school and magic, but unlike most of the stories we feature, the magic is being learned secretly, away from the eyes of the teachers.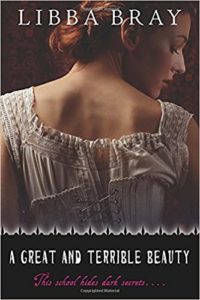 A Great and Terrible Beauty is the first book in a trilogy. The Amazon blurb reads in part:
The first book in the critically acclaimed New York Times, USA Today, and Publishers Weekly bestselling Gemma Doyle trilogy, the exhilarating and haunting saga from the author of The Diviners series and Going Bovine.
It's 1895, and after the suicide of her mother, 16-year-old Gemma Doyle is shipped off from the life she knows in India to Spence, a proper boarding school in England. Lonely, guilt-ridden, and prone to visions of the future that have an uncomfortable habit of coming true, Gemma's reception there is a chilly one. 
To make things worse, she's been followed by a mysterious young Indian man, a man sent to watch her. But why? What is her destiny? And what will her entanglement with Spence's most powerful girls—and their foray into the spiritual world—lead to? 
Librarian Virginia Johnson wrote this review of the book for her local library:
Gemma Doyle is furious with her mother. They may have the same untamed red hair and deep green eyes, but in Libba Bray's historical novel A Great and Terrible Beauty they are completely at odds with each other. It's Gemma's 16th birthday, and try as she may, she is making no headway whatsoever with getting what she really wants for a present—a ticket back to Merrie Olde England where she can make her debut in society and meet some nice, eligible young men.  But her mother won't budge. Gemma's to stay with her parents in India. And then something terrible happens. She gets her wish… at a horrifying cost.
Sent across the sea and plunked down at young ladies' finishing school to get that final polish before the London social season, Gemma finds her roommate Ann dull and somewhat pathetic but she discovers the mean girls' clique is no more enchanting. At least, not at first.
Pippa, an astounding beauty, is impossible to ignore, but it's Felicity, the wild daughter of an admiral, who is the ring-leader. They insist they want Gemma to join their group. Of course, first she'll have to pass an initiation. However, the cruel mischief the girls have in mind for the new girl is nothing compared to what will come. Each of them has a secret and a secret wish, but only Gemma's will open the door to a magical world of delight and danger.
Some quotes and awards:
"A delicious, elegant gothic."—PW, Starred
"Shivery with both passion and terror."—Kirkus Reviews 
"Compulsively readable." –VOYA
A New York Times Bestseller
A Publishers Weekly Bestseller
A Book Sense Bestseller
BBYA (ALA/YALSA Best Book for Young Adults)
Iowa High School Book Award
Garden State Teen Book Award
Pennsylvania Young Reader's Choice Award