Review: Diary of an Accidental Witch II and III: Flying High/Ghostly Getaway
Review by Chris Nuttall:
Diary of an Accidental Witch II and III: Flying High/Ghostly Getaway
by Honor and Perdita Cargill (and Katie Saunders, illustrator)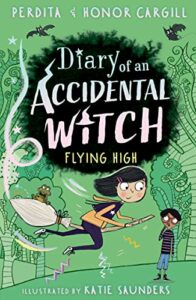 "I've hidden the old diary at the back of my sock drawer because it is very important that NO ONE ever reads it. Especially not Dad because I never did learn to write in code – EDOC? FRGH? £0D*? – and it will only take him about a nanosecond to find out that I'm a witch witch-in-training. That's the sort of shock nobody wants to give a parent. I feel bad keeping such a big secret from Dad, but it's his own fault for making us move to Little Spellshire and then accidentally sending me to the School of Extraordinary Arts instead of the perfectly ordinary Spellshire Academy. If it hadn't been for that one tiny classic-Dad-muddle-up, I probably still wouldn't even know witches existed, far less be learning how to become one. Witches, when they're not hanging out with other witches (like at WITCH SCHOOL), are very hush-hush about their witchiness. As our headmistress, Ms Sparks, always says, 'Those of us who know, know and those of them who don't, can't.'"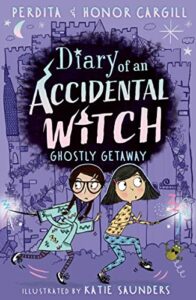 Readers of this blog will recall I reviewed Diary of an Accidental Witch a few short months ago and gave it a high rank for what it is – a child's book in a journal format. It is not a story of battles against a resident dark lord, or pages upon pages of unrealistic sex/relationships, but the journal of a young girl who finds herself at magic school. If you want something more meaty, this series is not for you, but if you can accept it for what it is you might enjoy it.
Flying High and Ghostly Getaway continue to follow the adventures of Bea Black as she studies magic and works to fit into the magical community.   In Flying High, she finds her magic school competing with the mundane school right next door, bringing the magical and mundane parts of her life into collision. In Ghostly Getaway, her class goes on a field trip to a supposedly haunted castle, while she frets about her father leaving the town and taking her with him.
This works very well, at least partly because Bea is a child and the book acknowledges some of the problems other characters – Hermione Granger, for example – gloss over. Bea is close friends with Ash, a mundane boy, and she finds it hard to cope with keeping the secret of magic – and eventually lets him in on it. There are details here that might be harder to handle with a book aimed at older children, and plenty of room for outright nastiness, but Bea largely avoids them. It's clear more people know what's really going on than the magical community would prefer, but it isn't a major problem and both sets of children wind up friends.
This is, of course, a common problem even without magic, when friends go to different schools or support different clubs – and that is what makes the books so relatable. This grows stronger in Book III, where Bea is faced with the prospect of leaving the school she's come to love – and her friends – and tries a number of childish tricks to keep her father from finishing his book before actually taking the more mature path – after it is pointed out to her – and talking to him about it.
The setting does, of course, draw on influences from Harry Potter and The Worst Witch. There's a broomstick game that is very close to Rowling's – naturally, Bea turns out to be very good at it. There are teachers who can be funny and kind, and also strict – although, to some extent, Bea's fears about the headmistresses' reaction to her letting the cat out of the bag are exaggerated and the headmistress goes out of her way to reassure her. (Although that does open up a plot hole – how did the headmistress know about that particular fear?) And she may not be close friends with her school rival – a childish version of Draco or Ethel Hallow – but being forced to work together does help them to get more understanding of each other.
Overall, Flying High and Ghostly Getaway work very well for what they are – children's books written in a childish manner. They do avoid many of the pitfalls of children's books – they avoid grossing adult (and even some children) readers out through being disgusting, nor do they preach to the readers. There's no sense the children are actually adults or have adult responsibilities, nor is there any great sense the adults are incompetent, manipulative or evil (although the adults do have some problems at the joint spots day, more than the children.) The journal format works very well, as I noted below, and the illustrations complement the writing very well.
It might be interesting to do a more adult version of the story later, with older characters, but it would be hard to find something new.
If you have children who love to read, and they're not old enough for Harry Potter or even The Worst Witch, they'll enjoy Flying High and Ghostly Getaway.
Read Diary of an Accidental Witch II: Flying High and Diary of an Accidental Witch  III: Ghostly Getaway today!