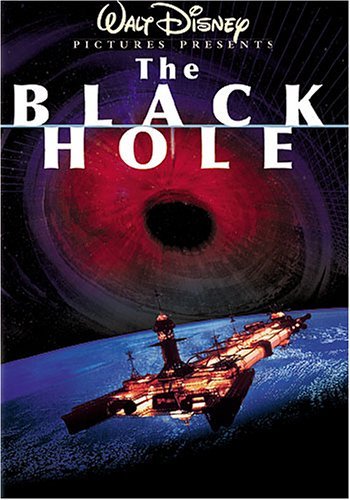 In 1979, Disney release The Black Hole. This science fiction film got released during the time between the original Star Wars of 1977 and the first sequel (The Empire Strikes Back) in 1980. It was a blatant, and honest, attempt to cash in on the renewed interest in science fiction as an adventure film genre and as such held true to certain old-school sensibilities that George Lucas's Space Opera revitalized two years prior.
It's sometimes derided as a Haunted House movie in space, but that's not fair. The actual speculative element–the titular black hole–literally makes it presence felt in the first reel, drives the plans (and motivations) of the antagonist, and plays the singular role in the climax of the film. For those science fiction fans looking for something scientific to talk about, you're not disappointed; there is no story without the black hole, so don't worry about the trappings of gothic horror used throughout.
What makes this a Superversive film is also laid out straight away: the defiance of logic, reason, and good order in favor of reckless and obsessive pursuit of a passion to the point of madness and degeneracy of character. This is symbolized by the antagonist's reliance on robots and automation over human crewman and proper navel procedure, a symbol made literal at a critical turning point in the plot when a revelation good enough to come out of a Cyberman episode of Doctor Who hits, after which things go increasingly bad for our heroes.
At no point is the antagonist–a precursor to the ethics-lacking "science" Establishment of today–portrayed as anything but a softer Colonel Kurtz-as-a-Mad-Scientist. Each of the cast who succumb to the antagonist's scheme do so due to critical character defects overwhelming them and compelling the doomed to their demise, while those who endure to the end do so because their fundamental decency shields them from the antagonist's attempt to seduce them into following his scheme.
The real achievement, for you younger folks out there, is that the horror of the antagonist's evil gets shown to the viewer without any gore whatsoever. This film, being one of the last of the old-guard Disney films, never lies to or insults its audience (or their parents) by talking down to them or relying on cheap tricks. The heroes win (as much as any hero in a tragedy does win) by being both right enough to withstand temptation and skilled enough to withstand retaliation. The antagonist is utterly undone by his own hand, learning well the price of hubris, and our heroes escape that same fate- if barely. (This is where the tropes of gothic horror get most applied, after their aesthetics.)
This is not some "villains win because Good is suck" story. This is not some excuse to parade degeneracy and moral abomination as the New Normal. This is a well-told story, where heroes are heroes, men are men, women are women, and robots are interesting (for fair and foul reasons), that (if not for the special effects) you might expect from a film 10 years prior.
Much like the Mohicans, The Black Hole was part of the last generation of a Disney (and a generation of film professionals) that faded away in the 1980s (with Tron being the last gasp). The Disney of today may, at times, echo that lost era but it is not Walt's house anymore. Recommended, especially if you want to know why Disney rarely even tries to do this sort of thing anymore.